So I decided that last night I wanted some soft serve badly. So I loaded up the kids and headed to Sonic. While we were waiting for the order to come out Brodie told me that when she has kids she is going to name her son Raymond, her daughter Aquamarine. (will tell that story in a minute), and her other daughter Claire. Interesting choice of names for children. Well the girl at Sonic, Amanda brings out our order and I tell her about the names. Her boyfriend's name is Raymond, so I tell her well you should change your name to Aquamarine. Her response, " I think I will do that I am going to make a name tag right now!" Brodie was quite stunned and didn't know what to think.
But the story behind Aquamarine, is well, Aquamarine is a movie about a mermaid.
She's slightly grown out of The Little Mermaid but still loves mermaids period. So I got her this movie.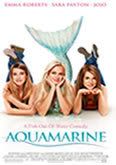 Well at school she drew pictures from the movie and brought them home, so I had to scan them and show off my daughter's knack for drawing and her love of mermaids!